Bradenton, FL. —May 25th, 2021—
JAR Systems has launched a new Library Check-Out Charging Solution, enabling students to check out power banks from central areas for portable charging at their desks or anywhere on campus. By extending device battery run-time, the solution ensures that every student has a working device throughout the day and maintains the focus on learning. Compatible with Chromebooks, tablets, and notebooks, the product set provides long-term value and affordability.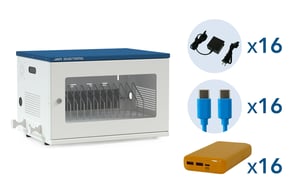 The bundle comes with everything required to start charging and is easy to deploy, featuring a pre-wired Flex-Share Charging Station and 16 USB-C Active Charge Power Banks. School administrators can place one or multiple stations in central areas enabling students to check out power banks as they are needed. Simple yet powerful, the power banks come bar-coded for inventory and are a vibrant "school bus yellow" for clear visibility.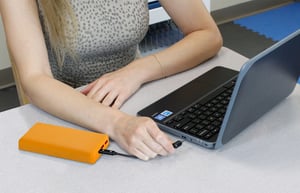 "Many of our customers were struggling with infrastructure issues when trying to keep devices powered in the classroom. Stringing up extension cords, power strips, and multiple charging adapters to each desk in the classroom creates tripping hazards, while some battery-powered options are just too expensive. This solution provides what schools need, removing the physical obstacles of charging cables and leaving out unnecessary functions that only add to the cost," said Axel Zimmermann, JAR Systems' CEO, on the development of the product bundle.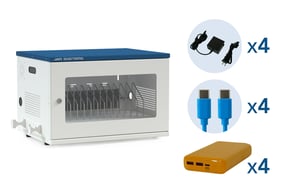 Catering to schools with varying budgets, the Library Check-Out Charging Solution is also available as a starter bundle configuration. This enables schools to get started with portable charging now and add more power banks at any time. The versatile, multi-use Flex-Share Charging Station allows for a customized mix of power banks and spare or "loaner" devices to be used as well.
If you have technology in your classroom, school, or district that does not have enough battery life to make it through the day, call 866.393.4202 or visit the link below for more information.

The Library Check-Out Charging Solutions will begin shipping in July 2021 with limited quantities available for the start of the Fall semester.
About JAR Systems:
JAR Systems LLC specializes in charging solutions for mobile technology. Founded in 2004, the company has spent the last decade focused on providing smarter, more versatile ways to charge and secure ever-evolving technologies. During this time JAR Systems has consulted educators to develop products that support and streamline how mobile technology is used for learning. The company's goal is to deliver products that will work efficiently and dependably for many years down the road.