Edmonds School District has increased instructional time and digital equity for students with the help of effective charging support for their district-wide 1:1 take-home program. After implementing new power bank check-out stations, they saw positive results such as:
Achieved the goal of maintaining d

evice availability for students during

the day, increasing quality instruction

time

Eliminated potential hazards i

n the classrooms

and

spared the district from expensive electrical modifications

Ramped up efficiency

for teachers

, students,

and tech teams

through

centrally access

ible charging support that is easy to set up, maintain, and use
---
"JAR Systems helped bridge the gap between student behavior changes/expectations to bring a device to school charged each day and needing a backup plan for when they can't. It is a great way to retrofit our infrastructure to meet the needs of our students."

Sarah Luczyk
IT Support Supervisor
Edmonds School District
---
Conquering the Obstacles of a Large-Scale 1:1 Technology Program to Find The Ideal Charging Solution
Edmonds is a public school district located in Edmonds, Washington, that serves around 20,000 students from the south Snohomish County area. Its mission is to advocate for each and every student by intentionally providing a culturally and linguistically affirming learning environment where students have the conditions they need to maximize their personal, creative, and academic potential to become lifelong learners and responsible world citizens.
At the onset of the Covid-19 pandemic, the district's technology team, led by Chris Bailey, Director of Technology, was well positioned to support at-home learning with their 1:1 Chromebook program. Normally, students had an assigned device they would use in class and bring home at night. They were asked to bring the device back to school fully charged in the morning. The technology team found that this period of fast transition magnified some issues. With the increased adoption of digital learning tools to support at-home learning when necessary, an uncharged device would be particularly damaging to a student's ability to participate in lesson plans.
To address the issue of students bringing devices to school uncharged, they had previously placed 10-outlet power strips with spare AC adapters to charge "loaner" devices in their tech support offices and they outfitted some classrooms with extra AC adapters. They soon recognized the need for a more permanent solution as the AC adapters being laid across the floor created tripping and fire hazard concerns. They also saw that instructional time was interrupted by students going to the office to check out the loaner devices.
Part of their approach to resolving the issue was to encourage students to change their charging behaviors and come into school with charged Chromebooks. While they influenced some students, they needed a solution that accounted for circumstances beyond their control. They envisioned an environment where they could rely on technology-focused lesson plans that require the regular use of devices in the classrooms. So, they began searching for affordable, accessible, and easy-to-use charging solutions.
---
Exploring Affordable, High-Quality Charging Solutions
The team set out to explore every possible avenue to solve their charging problems. "We wanted to find a way to offer a fast charging option for students that did not require us to reconfigure classrooms with power outlets and chargers, which could present tripping and fire hazard concerns," remarked IT Supervisor Sarah Luczyk.
While exploring product options, a marketing email introduced them to JAR Systems' Active Charge Power Bank solutions. The team learned more about the company and the product line and were impressed by the focused solutions, price points, and how they helped them find the right application for their needs. They honed in on the Library Check-Out Charging Solutions for their tech offices at the middle and high schools. This all-in-one solution comes with 16 power banks each that the students could easily access from one centralized area. They also chose the Adapt4 USB-C with Active Charge, a smaller four-power bank solution, to be placed near groups of classrooms at the elementary level where they do not have tech offices.
Given the solutions' capabilities, they believed they would be perfect for supplying at-the-desk charging to students without modifying infrastructure or creating classroom hazards. They liked that Active Charge Power Banks could be a global solution across their district that would work universally for their 1:1 Chromebooks as well as other devices for special programs and would enable the tech team to provide consistent support for the solution. During this time of global supply chain deficits, JAR Systems was able to partner with them to deploy the products within their time requirements where other vendors could not.
Luczyk noted, "Our student support team was able to get the systems set up with little to no disruptions or questions. They were pretty much plug-and-play."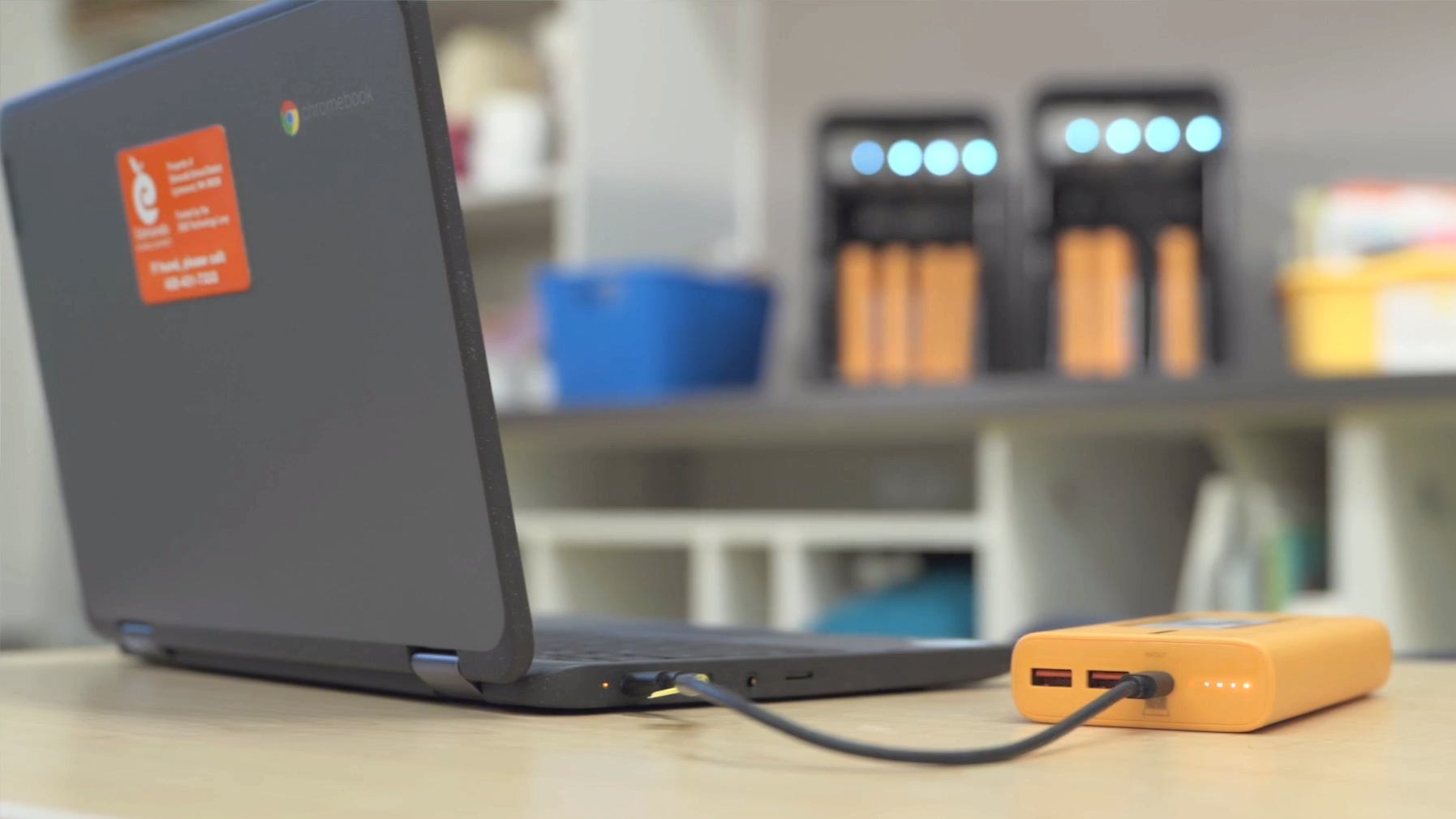 (Above: Active Charge Power Bank charging one of the district's Chromebooks)
---
Improving Device Accessibility and Advancing the Path Forward
The new power bank solutions are working as planned and have been well-received throughout the district. Director of Technology, Chris Bailey, remarked, "One of the things that we like about the products is their flexibility. We have the ability to meet the students' charging needs wherever they are located, and we can do that without tripping or fire hazards. It's been really great for teachers since it is a simple task, having the student go pick up a power bank, plug it in, and get back to learning. So, the impact on instructional time is vastly reduced."
Technology Projects Coordinator, Jordan Suver added, "One other department that has really been appreciative of this setup is our maintenance and facilities department… There is no longer any daisy-chaining of electrical outlets, which was a massive issue, especially in our older schools that did not have the electrical outlet capacity that our newer schools have."
He went on to note the benefit of the solution's universal compatibility, "It's not just for laptops. We have assistive technology devices out there, iPads that are being charged by the power banks as well, so it's helping all students, not just the students in our regular classrooms... It really helped to go above and beyond for every single program that our district serves."
The new charging solutions have helped them achieve greater success with their 1:1 take-home program, which has provided wide-reaching benefits for the students and their families. With everyone having access to a device at home, they are seeing more participation in the students' learning and more families tuning into board meetings virtually. Sending the devices home has also lessened the strain on the electrical infrastructure of their schools, freed up classroom space, and reduced management responsibilities for teachers.
With their goal of maintaining functioning Chromebooks and increasing efficient instructional time being reached, the team is working with JAR Systems to forecast its future charging needs. They are considering additional solutions such as an outdoor locker system for contactless, after-hours pick-up. Together with the check-out systems, this will further advance them in their mission to achieve a learning environment where students can maximize their personal, creative, and academic potential to become lifelong learners and responsible world citizens.