Updated May 3, 2023
Technology is always advancing, but electronics are still limited by batteries. Even devices that claim to have eight-hour battery life when they're new, will decrease after repeated use. Ideally, every device would be fully charged at the beginning of the day, but students forget to come prepared at the start of class, employees fail to remember to bring their device chargers, and older batteries do not last all day. On top of that, the average room runs out of available outlets quickly when there are 12 or more devices being used in a room.
Having an accessible power supply for laptops and tablets is a huge need when students' education relies on technology. As more schools are implementing educational technology programs where each student has a mobile computing device, such as 1:1 programs or 'bring your own device' (BYOD), many are running into the problem of accommodating for charging, storing, and security for multiple laptops or tablets. BYOD devices are typically supplied by the families, so there is more variety in what technology students are bringing to class and varying ages of their devices. With dwindling battery life and constant use throughout the day, students will eventually be searching for a power source to plug in their device.
Compare the ways to keep devices charged all day in a 1:1 computing environment.
These are common charging setups for classrooms, office spaces, and boardrooms that are limited on outlets and need solutions that work for multiple devices:
Active Charging - Charge Devices During Use
Many schools rely on "passive" charging methods, charging devices overnight and hoping that they will have enough power to get through the day while running on battery. Problems arise when the device's batteries cannot last long enough either because of their age or just through excessive use. When devices turn off halfway through a lesson due to a drained battery, students need "active" charging solutions to be able to get a charge while they continue to work.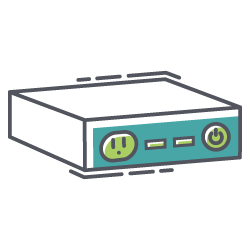 External Batteries
When laptop batteries are no longer keeping up with the workload, rather than replacing the internal battery, use external battery packs or power banks. They come at an additional expense but are more cost-effective than replacing internal batteries or completely replacing all slower devices. External batteries with AUX outlets allow for any device's power cord to be plugged in for charging without an outlet, while some are equipped with USB-C power delivery for compatible devices.
Cable-Free Charging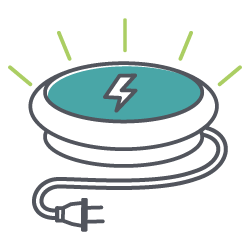 An increasingly popular option for the ease of charging, this method allows you to simply set your compatible device on the wireless charging surface. Wireless charging offers the ability to continue using devices as they charge and eliminates the need for additional wiring. It does, however, require the installation of wireless infrastructure, and only some devices are compatible. Most common educational devices do not currently include this functionality. Unfortunately, the technology is not yet a widely accessible solution for schools.
Supplying More Outlets Without an Electrician
Increasing the number of outlets does not necessarily mean the room can handle that many more electronic devices being plugged in. You should always take precautions to make sure that electrical outlets will not be overloaded. There are a lot of smart ways to add available outlets to a room, but keep in mind the limitations of the outlet and the circuit breaker a series of outlets and/or lights are connected to. An affordable solution to classrooms that won't overwhelm your outlets and provide active charging is the use of external batteries.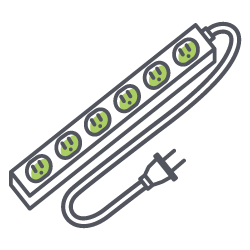 Power Strips
Power strips are an easy and affordable way to add outlets but are a tripping hazard when strung in-between desks to reach more than one computer. While some power strips provide surge protection for technology connected to it, not all power strips are the same and can leave expensive technology susceptible to power surge damage. Along with outlet limitations, there is a risk of blowing a circuit breaker when you plug too many devices into a room, especially in older buildings.
Cable Tracks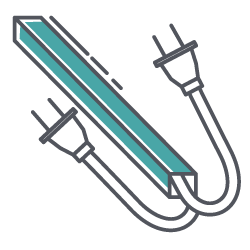 Consider ways to reduce cable clutter in the classroom when adding any power cables or extension cords with several options of low-profile cable track systems. Effectively reducing cable clutter and tripping hazards while running power to different parts of a room. Most are designed to sit above the flooring, although some are so low-profile, they can be installed discretely beneath carpeting. The tracks that run over the flooring do create a slightly uneven surface, but not more than a typical threshold of an entry-way.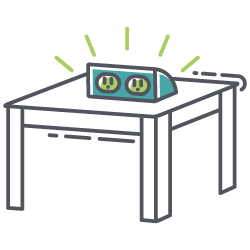 Outlet Integrated Furniture
Buying new desks, tables, or chairs that feature charging outlets is an option that allows students to work with their devices while recharging the battery. If your classrooms are currently equipped with suitable furniture, check online for products that can enhance it. Some companies offer products that provide additional outlets to regular furniture, essentially power strips, that can either be attached permanently or through clamping mechanisms and can be Daisy-chained together. You still must consider how the power cords will run to the furniture, especially if you are retrofitting furniture with outlets. A tripping hazard mustn't be created. Another thing to consider is whether the teachers and students will want to reposition the furniture for project-based learning and other activities.
If you are putting together a charging solution at your school, consider incorporating the Intelligent Charging System. It can safely charge as many as 64 devices of any kind to one standard power outlet! It manages power and charges as many devices at once as possible without tripping a circuit breaker.
Passive Charging - Charge Devices After Use
Laptops and Tablets that go through rigorous use throughout the day need a place to recharge and be ready for use the next day or during off periods like lunch or PE. Passive charging is limited to when the device is not in use, which is okay for situations where devices are able to stay up and running for the entire work period. If you have older devices with shortened battery life you may want to consider adding outlets or implement other active charging solutions to keep devices running all day. Read on for some options for passive charging solutions.
Charging Racks and Docks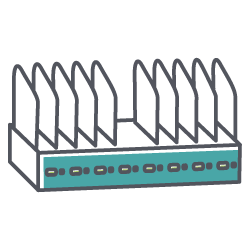 Looking for low budget charging for classrooms is difficult and many teachers seek solutions for devices with batteries that do not last all day or when students bring in Chromebooks or other devices that are not fully charged. Charging racks and docks are usually made with an open design to allow for easy deployment and organization of laptops and tablets. When DIY racks or docks are in use there are a variety of issues that could harm the devices or safety of students. Unorganized cables, no electrical intervention, and unprotected devices leave a lot of room for electrical hazards and the potential of charging ports or devices themselves getting damaged.
If you are using a DIY charging set up, consider switching to a charging dock to cut down on cable clutter or another alternative is an open style charging station that holds and secures compatible power cords for devices.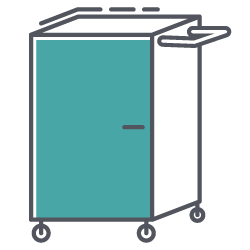 Charging Stations and Carts
Great ways devices can be kept in the classroom or a central location for safe charging and storage at night are with charging stations and carts. They are commonly used in environments where sets of portable devices must be shared among multiple groups of students or 1:1 educational technology programs where students are not allowed to bring the devices home. Carts are a transportable charging solution that can be moved to different classrooms, the library, or media centers where charging is needed, and stations are a great way to maximize classroom space. Both can help charge in between periods for a BYOD program or be used for students to check in their own devices to charge or for them to check out loaner devices to use instead.
If you are using carts in a BYOD program, be sure to choose carts that are compatible with a wide range of devices. If students will be supplying their chargers, make sure the cart allows the chargers to be taken in and out quickly and easily. Also, in this situation, you will want a cart that remains on and continuously monitors power requirements because devices will be returned to the cart at different times with various levels of charge.
Charging Lockers
For common-space charging with security, charging lockers may be appropriate for schools. Lockers are built-in units with individual locking compartments where a student can secure their device while it charges. Typically they are equipped with outlets and/or USB ports for device connectivity within the compartment. Some charging lockers, such as LapSafe's Diplomat, even offer features such as the ability to manage devices through the cloud.
Price is one of the biggest downsides to charging lockers, while other hurdles include having the allotted space and in some instances special wiring requirements for the installation. Instead of straining your pocket and valuable space consider a charging station designed with individual device cable lock security compatibility. Having secured stations in multiple areas makes for more accessible and reliable charging for students.
Overall Comparison
Figuring out the best solution for your organization starts with evaluating the device type and charging needs of your technology users. One thing is certain, dead batteries will happen and they can be a disruption, this makes it essential to strategize for the best plan to keep devices running.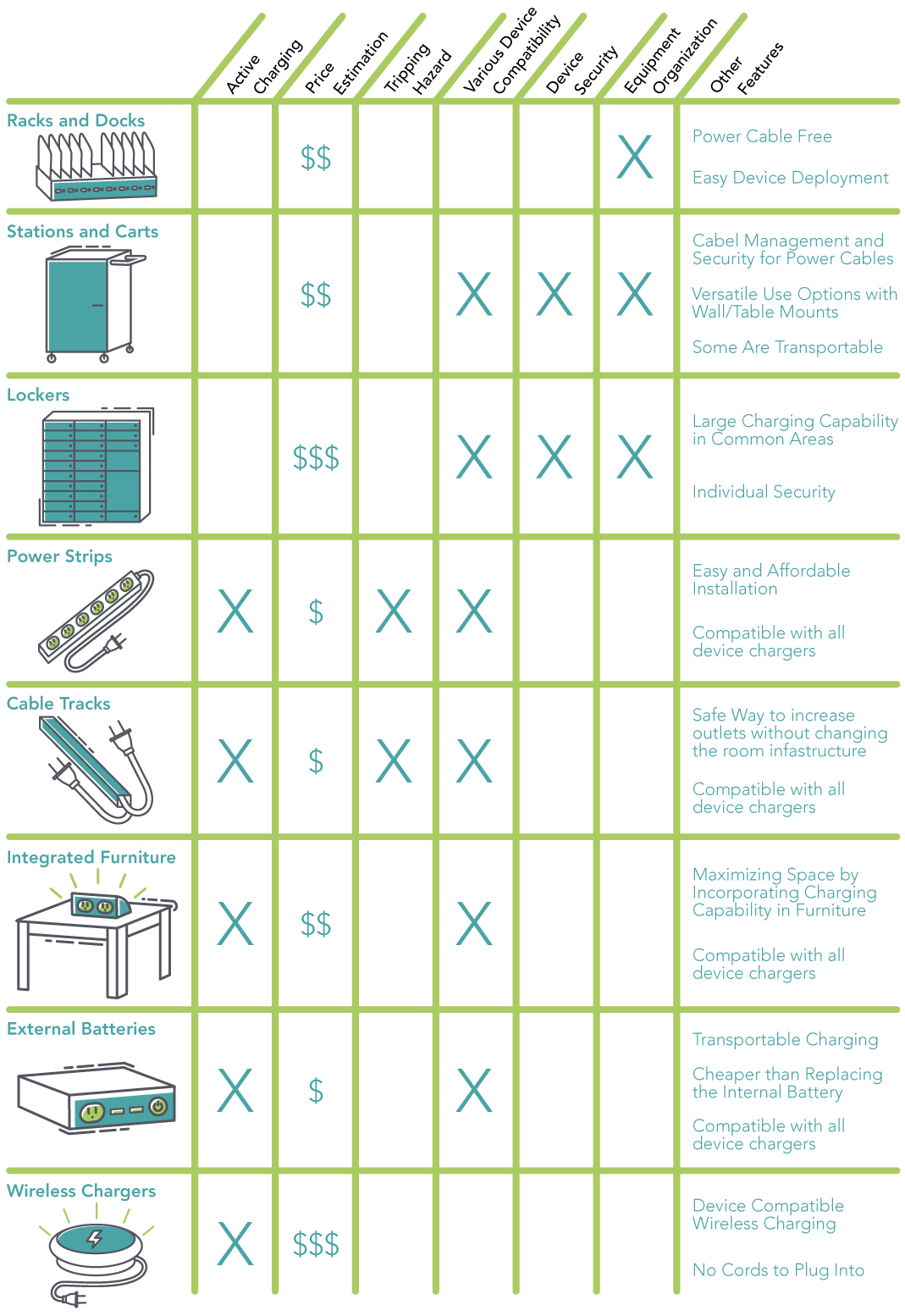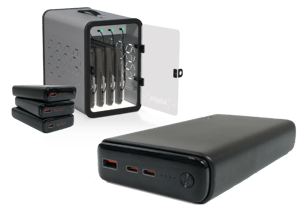 Secure and Supply Power to Devices
Check out the Adapt4 USB-C with the Active Charge Upgrade, a securable passive charging station with active charging power banks! It is built for technology growth but compatible with older devices with affordable external batteries to keep devices up and running all day.