When the lithium ion battery became the new standard for mobile devices, a technological leap was made. Laptops, notebooks, and even Chromebooks and tablets can now operate much longer and with less upkeep than devices that used the older, nickel-based rechargeable battery. Although they are no longer used, guidelines for prolonging the battery life of devices utilizing nickel-based batteries have persisted. This has lead to a variety of mixed information and "myths" around the best methods to prolong the lifespan of device batteries. Read below to find the facts on some of these myths that most effect school technology programs.
Myth: You Shouldn't Leave Devices Plugged Into a Charger, or Else You Risk Overcharging Your Device
Verdict: False
According to Digital Trends, one of the leading online tech resources, "modern devices are designed to stop charging at 100 percent and thus keeping them plugged in does not impact the battery's lifespan." This belief has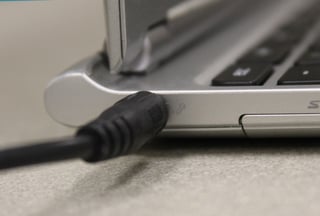 survived due to experiences using outdated technology before modern upgrades, causing some confusion. Many assume that leaving devices plugged in when they have a full charge will cause the battery to have a shorter lifespan, however this is not the effect with lithium ion batteries.
What actually effects the longevity of the battery is how often it is used or the number of charging cycles it completes. Apple explains that "a charge cycle happens when you use all of the battery's power". This doesn't necessarily mean a single charge. You could use half of your notebook's charge in one day, and then recharge it fully. If you did the same thing the next day, it would count as one charge cycle, not two. In this sense, it might take several days to complete a cycle.
Similarly, some believe that if the device is plugged in and charged, it will complete a full cycle, regardless of how low the initial charge was when it was plugged in. Manufacturers estimates that the average battery lasts between 300 – 500 cycles, with a maximum charge of 80 percent after 300 cycles. Like many other myths, this belief was a reality on outdated models of batteries but has since been obliterated by the advent of lithium ion technology.
Myth: Devices Should Not Be Stored With the Battery at Full Charge
Verdict: True
As a rule of thumb, Digital Trends further points out that if you want to store your laptop after leaving it plugged in, try to discharge the battery to at least 50% before storing it for an extended period of time. Many schools may store their devices over the summer with low battery or full charge as students return them to their respective charging carts with varying levels of charge and teachers may or may not charge the cart to full before it is stored. Neither of these scenarios is ideal. Storing the battery at full charge may cause it to lose some capacity, leading to shorter battery life. On the other hand, storing the device long-term with less than 20% charge could cause battery to lose the ability to charge back up.
Myth: After Purchasing a New Device, it is Necessary to Fully Charge the Battery Prior to Use
Verdict: False
If you have just received a new set of computers for your class, you may be tempted to charge the batteries prior to turning on the devices. According to Hewlett Packard, this isn't a necessary step, as lithium ion batteries do not require an initial charge. This concept arose from older models of computers, which required the batteries to be at maximum capacity prior to use. These same older batteries could overcharge, leading to a shorter life span. This was a problem that many experienced, but lithium ion technology has since revolutionized the process.
See Also "3 Steps to Extend the Lifespan of Your Charging Cart"
Myth: Buying Extra Chargers from a Third-Party is a Great Way to Save Money
Verdict: True (Only for Licensed Products)
In classroom settings that utilize charging carts to secure and transport devices, often the chargers will be wired into the cart in a way that would be too time consuming to take out every day. For this reason many schools like to have an extra set of chargers on hand for students to either use during class or to take home with them. Likewise, chargers do break or go missing at times and need to be replaced. Schools should be mindful, however when purchasing extra chargers from a source other than the manufacturer of the device.
Apple chimes in on the issue advising consumers to only use accessories and chargers that Apple has certified. If a charger is licensed to work with a specific product, there is a high chance that the original manufacturer has an agreement to enforce quality control regulations. Unfortunately, many cheap, third-party products exist that may not conform to proper standards and regulations and should be avoided at all costs. While inexpensive, these products often break easily, can potentially be hazardous, or cause damage to the device. Always check to make sure the third-party products have an official agreement with your device's brand or run the risk of reducing the lifespan of the device or worse.
The same knowledge applies when it comes time to replace a laptop or Chromebook battery. Dell states that "only Dell batteries are engineered for optimal safety and performance for Dell systems and are supported by Dell technical support for the length of the limited hardware warranty period." Third-party chargers and accessories are great purchases, but only buy brand name or officially certified batteries to increase the ROI of your technological assets.
Myth: Proper Ventilation Can Increase the Lifespan of Device Batteries
Verdict: True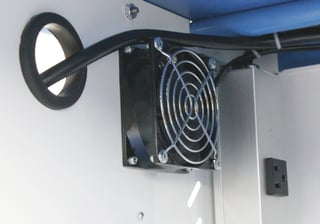 Keeping devices at a proper temperature and maintaining good air flow will help to prolong the life of device batteries. In schools, some of the greater obstacles to this are charging or managing devices in large quantities and storing the devices over the summer without temperature control, especially in warmer climates. The tech blog Make Use Of highly recommends that the consumer "maintain optimal cooling and airflow to decrease heat buildup". Additionally, Dell recommends that you should avoid exposure to extreme temperatures. Schools can help achieve optimal temperatures for their batteries by choosing charging carts with appropriate airflow, which may incorporate fans for devices that tend to generate more heat or when managing notebooks via network switch within the mobile cart.
In devices such as notebooks, an automatic fan keeps heat from building up from internal components and is essential. The internal ventilation tracts must be clean, as Digital trends recommends, "You'll want to make sure that both vents that pull in cool air and those that expel hot air are able to do their jobs". Also consider that, if a case is required for a notebook or laptop, the case should not obstruct ventilation openings in the device.
Searching for the Right Charging Carts for your District?
Get the Guide:
Tips to avoid common pitfalls in rolling out new charging carts.

Recommendations to make the most out of your institutions investment in charging carts.

Pointers to stimulate thought about how your charging carts will be best used.