It is something we have all heard a lot about it lately. When it comes to cleanliness and preventing the spread of various contaminants, the key is making sure that the items your hands come into contact with are clean and sanitized. Students regularly come into contact with many surfaces in the classroom, and there are many types of all-purpose cleaners that work well for them. When it comes to cleaning expensive equipment, however, it's always best to know what products are safest to use as well as effective.
This information is especially important now, as schools around the country are distributing classroom computers to their students to use at home for distance learning. Many are wondering what the best methods for schools disinfecting their devices are, so that they can distribute that information to families caring for devices at home as well.
The CDC recommends for electronics, such as tablets, Chromebooks, touch screens, keyboards, and remote controls to follow manufacturer's instructions for cleaning and disinfecting them. If there is no guidance, use alcohol-based wipes or sprays containing a mixture of 70% isopropyl alcohol - 30% water. Dry the surface thoroughly and consider putting a wipe-able cover on all electronics.
Check out the following manufacturer's instructions: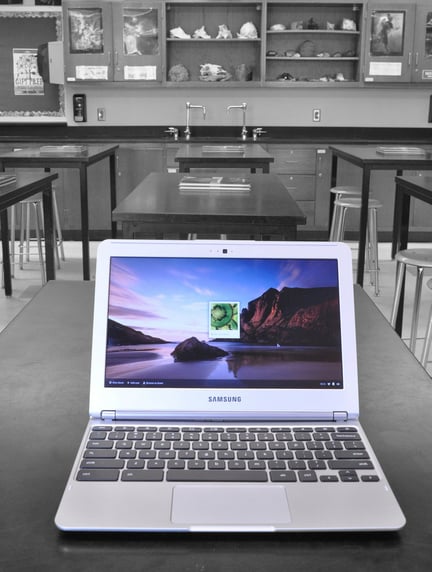 General Safety Instructions for Cleaning Classroom Technology
Best Practices:
Clean every 3-6 months and as needed.
Wear disposable gloves made of latex (or nitrile gloves if you are latex-sensitive) when cleaning and disinfecting surfaces. Wash hands if they come in contact with any chemicals.
Keep liquids away from the product, unless otherwise noted for specific products.
Recommended instructions for cleaning classroom computers or tablets:
When cleaning technology you should always unplug and power it down. Unplug all external power sources, devices, cables, and remove batteries from items like wireless keyboards. Never clean a product while it is powered on or plugged in. Disconnect any external devices.
Never apply liquids to the device. Instead, apply the liquid to a cloth and wring out any access to prevent any damage. Keep liquids away from the product, unless otherwise noted for specific products. Do not get moisture into any openings. After disinfecting, follow the cleaning procedure from the wipe supplier to minimize chemical buildup of disinfectant residue (i.e. wiping away any residual disinfectant after the prescribed contact time).
Avoid abrasive cloths, towels, paper towels, or similar items; use a natural fiber or microfiber cloth to avoid any scratching or streaking when disinfecting. Most glass screens (especially smartphone/iPad glass surfaces) have an oleophobic coating that repels oils from hands and fingers. Avoid excessive wiping, which might also cause damage. The coating's effectiveness will lessen over time but using anything abrasive on the glass will hasten the loss and scratch the surface permanently.
Remember to disinfect any flexible cables, like power, keyboard and USB cables, when cleaning your device. Surfaces must be completely air-dried before turning the device on after cleaning. No moisture should be visible on the surfaces of the product before it is powered on or plugged in.
Establish regular cleaning procedures for your devices:
We have been seeing a lot of districts ramping up their cleaning procedures with increased frequency and using hospital grade disinfectants. Now that most schools are closed, many are even using the opportunity to do a deep clean. This is especially important now, as we combat Covid-19 nation-wide, but regularly disinfecting school Chromebooks, laptops, and tablets is always a good idea. We suggest getting a set routine for disinfecting these frequently used items in the classroom, which is also crucial in 1:1 take home programs to establish a habit of cleaning devices.
Is it OK to use a disinfectant on my device?
It is best to follow the recommendations in your products manual as there are specific cleaners that are best for certain devices and finishes. Using a 70 percent isopropyl alcohol wipe you may gently wipe the hard, nonporous surfaces of your product, such as the display, keyboard, or other exterior surfaces. Avoid excess moisture and getting liquids into any openings, and don't submerge your product in any cleaning agents. Don't use on fabric or leather surfaces.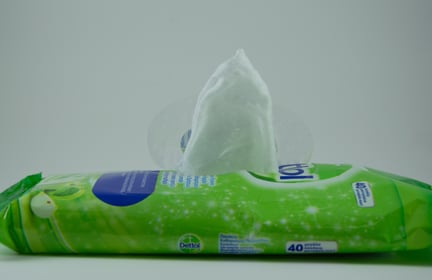 Here are safe things to use:
Isopropyl alcohol (IPA) solution 70% or less
Simple soap and warm water
(Depending on where you live, you may want to use filtered or bottled water instead of the tap variety.)
Some manufacturers say that 0.3% or less of Dimethyl Benzyl Ammonium Chloride should be fine for their products. Double check that it applies to your specific device before using the following: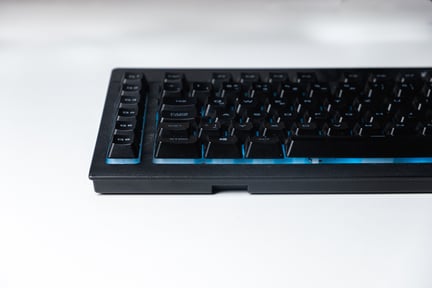 Cleaning keyboards and touchpads
To get rid of pesky debris, hold your device upside down and gently shake it to release large pieces of dirt. Then, use a can of compressed air to blow away any smaller particles that are stuck between the keys. If you want to be extra delicate, you can use a brush to gently clean each key individually. Use a cleaning cloth with distilled water and gently wipe the touchpad. Now your device will be crumb-free. Do not allow any moisture to drip into areas like keyboards, display panels, etc. Moisture entering the inside of an electronic product can cause damage to the product. Use a can of compressed air to remove dust from vents, fans and beneath the keys on your keyboard. Hold the can of compressed air upright and use short bursts of air to blow out the dust. Note: Always follow the manufacturer instructions for using compressed air.
Never use the following when cleaning a device:
Abrasive Powders

Some to look out for: rottenstone, whiting, pumice, volcanic ash, quartz, marble, feldspar, silica, sandpaper, plastic nylon meshes, and particularly calcium carbonate. They can be found in powders and pads and harsher cleaners

Air Compressors

Anything above 70 CFM (Cubic Feet per Minute) can damage your device

Benzene is among the 20 most widely used chemicals in the United States. It is used mainly as a starting material in making other chemicals, including plastics, lubricants, rubbers, dyes, detergents, drugs, and pesticides. In the past it was also commonly used as an industrial solvent (a substance that can dissolve or extract other substances) and as a gasoline additive, but these uses have been greatly reduced in recent decades.

Chlorine (also called Sodium Hypochlorite)

Found in Bleach, Clorox Healthcare Bleach Germicidal Wipes, Fantastik All Purpose Cleaner, etc.
Ethyl Alcohol (also called Ethanol)
Found in Lysol Wipes, Clorox Disinfecting Wipes, etc.
Methyl Chloride (also called as dichloromethane or DCM)

Paint Thinners

Solvents such as

Mineral spirits

(US) /

White spirit

(UK),

Acetone

, Dimethyl Ketone, 2-Propanone, Beta Ketopropane,

Turpentine

,

Naphtha

,

Toluene

,

Methyl ethyl ketone

(MEK),

Dimethylformamide

(DMF),

Ethylbenzene

,

Xylene

,

n-Butyl acetate

,

Butanol

,

2-Butoxyethanol

or any of the other

glycol ethers

.)

Peroxides (including Hydrogen Peroxide)
If you are in need of support for your JAR Systems charging carts and stations, please do not hesitate to reach out to us. Click here for general instructions on removing charging cables from our products. If your school has come up with creative solutions for some of the topics discussed feel free to share your ideas as they may be helpful to others.