Classroom technology plans are always transitioning, but it is not often that we experience an event that causes us to have to pivot so quickly. Districts across the US are temporarily closing their doors in an unprecedented fashion and, already, some are facing closures that are longer than they initially expected. In response to extended closures, many are now creating contingency plans that involve online learning. This means that many students will require technology that is provided by the district to use at home.
For schools that have already implemented 1:1 take-home programs this may be a smoother transition, but for many others there is a lot of work to be done to accommodate this change in a short time. We have prepared a few things to think about as you plan for sending in-class devices home with students.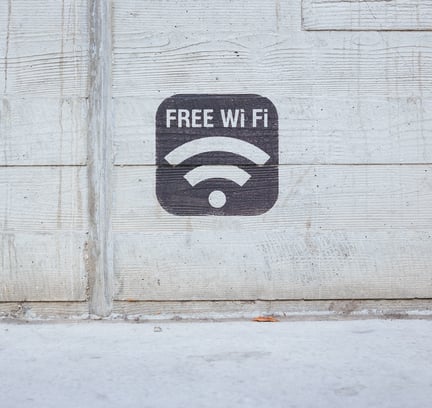 Deciding How to Distribute Devices When You Are Not 1:1
This can be challenging to navigate when you do not have enough devices at your school to give one to every student. There are a couple of ways that we have found schools are choosing to tackle this issue. A good way to assess where the devices are needed the most is to survey parents on the situation at home. While it may be laborious, a phone call to parents can go a long way in discovering which students have sufficient technology access at home and will not be in need of district-provided technology. Another thing to consider is identifying which students have siblings at the school that they will be able to share a device with.
Additionally, a survey of parents can also assist in uncovering holes in wifi accessibility. This issue is more pervasive in some areas than others, but assessment of wifi coverage can help determine what courses of action may be best to help alleviate what will be a roadblock for some students. This is a constant issue that will be exacerbated at this time when many local restaurants and coffee shops that typically provide free wifi are closing their dining rooms.
Schools can consider investing in wifi hotspots to distribute to students in need. The company Kajeet, for example offers a 4-month plan that would help through the rest of '19-'20 school year.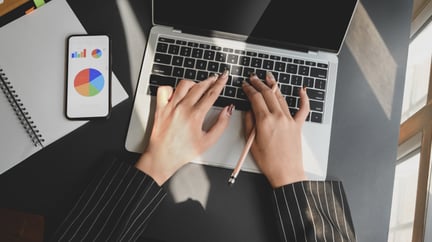 Keeping Track of Devices That Go Out
In addition to having clear policies around the responsibilities of students and families for the technology that is now in their care, you are going to want to have a good system to document each device that leaves and returns to the facility. If you have already gone through the process of having each device marked and serialized, then this should be a relatively simple task.
If you have not previously tagged your devices, you should consider getting proper labels for each device with a scanable barcode or QR code. Many technology services companies that you may already work with provide this as a service. You can also consider more DIY options. There are companies that provide labels and/or inventory apps for a fee like Cheqroom. There are also free inventory apps that can be set up for this purpose like Odoo, which would take some time to set up first.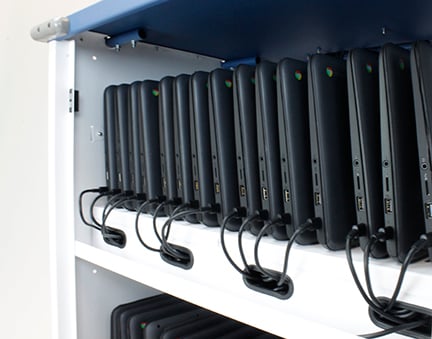 Removing Devices and Chargers From Their Carts and Stations
If your school's devices were previously only used at the school, then its likely that they were set up in a charging cart or station. With classroom charging being our area of expertise we know that, depending on the precise cart or station, going back and removing all the charging cables so that they can be brought home with students can be a big undertaking. This is especially true if you were not the party that was originally responsible for setting them up the first time around.
Our advice is to consult with the manufacturer of your charging cart or station on the best way to go about deconstructing its cable management because there may be better ways to tackle the project and save your team some time. If you have JAR Systems carts or stations, the cable management is fairly simple, but we created a guide for your reference HERE that covers the majority of our products. Of course, if you have additional questions, we are happy to help.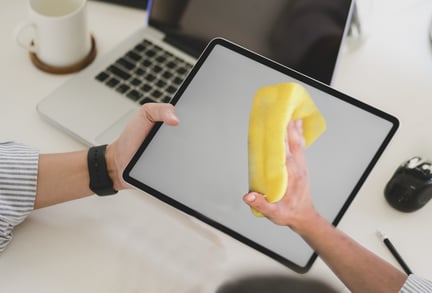 Considering Disinfecting Devices
Not forgetting why the devices are being sent home with students now, we should consider whether or not it is necessary to disinfect devices as they are being distributed. The World Health Organization recommends cleaning frequently touched objects in defense of COVID-19 and specifically stated, "Use sodium hypochlorite at 0.5% (equivalent 5000ppm) for disinfecting surfaces and 70% ethyl alcohol for disinfection of small items, and ensure appropriate equipment for cleaning staff ." Make sure to stay aware of the situation, a good resource to look at is the updated COVID-19 page that is updated with communications from CDC and Government Released Statements.
Staying Flexible for Future Changes and the Next Steps
As we venture into new territory with news developing daily, we must all remain flexible and consider plans for possible outcomes. As devices are being deployed, consider what the eventual return of those devices might look like and what resources the process will require. Just as charging cables are removed from carts and stations, they will eventually need to be placed back in. It is not uncommon for a district to experience loss and damage when devices are sent home with students, so plans for replacing some of these items may be necessary. Some districts may decide to acquire additional devices to help accommodate online learning, in which case you may need to decide what to do with that surplus when they return. Whatever may come, as partners and members of the education community, we can help each other be prepared.
If you are in need of support for your JAR Systems charging carts and stations, please do not hesitate to reach out to us. Click here for general instructions on removing charging cables from our products. If your school has come up with creative solutions for some of the topics discussed feel free to share your ideas as they may be helpful to others.