JAR Systems introduces innovative, adapter-free charging solution for any type of device
Bradenton, FL.—February 28, 2019—JAR Systems is proud to welcome the Universal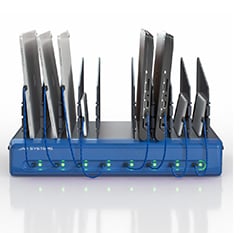 USB-C Charging Dock to their line of charging solutions. This unique Dock is a convenient solution that lets users quickly and easily connect any laptop, Chromebook, tablet, or smartphone that utilizes a USB-C charging port. Capable of charging up to 8 devices at once, it is well-suited for conference rooms, classrooms, libraries, and anywhere else that devices are used.
The Universal USB-C Charging Dock pairs JAR Systems' proprietary Quick-Sense charging technology with an all-new, open rack design that enables users to quickly gather their devices so that they can get to work. Bundled with 6" USB-C to USB-C cables, the solution eliminates the need to provide matching adapters and therefore greatly reduces cable clutter.
Compatible with nearly any Chromebook, tablet, or smartphone, the Universal USB-C Charging Dock features removable dividers and an 8" wide platform that provides a sturdy base for both large and small devices. Its platform can be secured to a tabletop to prevent removal and is also easily mounted into server cabinets.
Powered by Quick-Sense charging technology, the Dock is able to automatically sense and adjust the power supply to meet the needs of each individual device ranging from to 2.5W to 65W. The system delivers a fast, efficient, balanced charge and protects against power surges and spikes. LED lights for each port tell users which devices are charging and when they are complete.
"The standardization of USB-C charging ports is revolutionizing charging options for schools and businesses that use a variety of devices. Recognizing this, we conceived the ideas for the Universal USB-C Charging Dock," said Axel Zimmermann, the company's president. "Its Quick-Sense technology provides the standard of charging expected from JAR Systems, while its simple design gives its users the freedom and ability to connect a wide range of USB-C devices."
The Universal USB-C Dock is designed to efficiently deliver power to any work or learning environment and is covered by a 1-year warranty, with a 5-year upgrade option available. Interested parties should contact JAR Systems at (866) 393-4202. Limited quantities will begin to ship in March.
About JAR Systems:
JAR Systems LLC specializes in charging solutions for mobile technology. Founded in 2004, the company has spent the last decade focused on providing smarter, more versatile ways to charge and secure ever-evolving technologies. During this time JAR Systems has consulted educators to develop products that support and streamline how mobile technology is used for learning. The company's goal is to deliver products that will work efficiently and dependably for many years down the road.