Many schools have carts that they are considering getting rid of and for a lot of different reasons. Sometimes the carts that were purchased were not a good fit for the devices, did not work well, took too long to charge, did not reliably charge all of the devices, or they are just plain disliked by the day-to-day users for a myriad of reasons. At JAR Systems we are proud to create mobile carts that stand the test of time. In fact, many of our first carts ever sold are still in use to this day!
This longevity is not always possible when it comes to carts, though. They come in many materials, shapes, and sizes, and they do not all share the same level of versatility and efficiency. Whatever the case is, even if the cart is out of warranty, you may want to explore your options before investing funds into a whole new solution. Keep reading to learn about a few good reasons why you may want to hold onto your carts a little longer.

1. The Structural Integrity of the Mobile Cart is Still Sound
Carts are often thought of after the devices have been chosen and budgeted for, and sometimes there is not much of the budget left for a storage solution at all. After all, we want to spend our money on as many devices as possible, right? Well here's some good news for you, if you already have carts from a previous deployment that could potentially be used for these devices, it could be an excellent opportunity to save. A lot of the carts that have been on the market in the past 10 years are built with materials that will persevere for longer than they are usually used. In fact, the components that typically break first are the charging timer/switch in charging notebook carts and, in some carts, cheaper plastic components such as clips or dividers—but these can be replaced.
Another thing to consider before writing your carts off as a completely lost cause is that there is a viable "second life" market for them. There are many schools that would be glad to purchase a used cart for a good price. Whether you have an older, bare-bones, timer cart or a shiny new syncing iPad or tablet cart that is only a couple of years old, there is sure to be another district or IT specialist out there that is looking for this type of equipment for their devices and would appreciate the price break. Plus, it is a win-win situation when your school can recoup some tech funds from your old storage carts at the same time.
2. Your Mobile Carts Can Work Better Now Than Ever Before
If the devices that you are currently using physically fit in the carts that you already have (even if it is a different type of device than the cart was initially purchased for), but the cart is insufficient for charging the devices, is unreliable, too slow, trips circuit breakers, or just plain doesn't work, there is a way that you can resolve these issues so you can keep using your carts and save. JAR Systems now sells its signature Intelligent Charging System independently, so it can be easily integrated with most any cart that you may have.
This means you are no longer stuck with the standard charging method that a particular cart comes with. Or, you can even turn a bear-bones, locking cart into an efficient charging station. Installing a new charging solution solves many of the common charging issues that can arise with carts and will give you the power to further customize your mobile device solutions to make them really work for your specific needs. Not only that, but with the Intelligent Charging System's management software, you also get to benefit from faster charging than with a typical timer based charging system and you never have to worry about tripping a circuit breaker ever again. You can read more about the different types of charging methods available on the market in my previous post: What You Should Know about Charging Mobile Devices in Schools.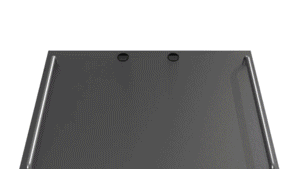 3. Stretch Your Tech Budget
For a fraction of the cost of buying new carts, you can make the ones that you already have into intelligent charging machines! A school can potentially save thousands of dollars by leveraging previously purchased carts with this cutting-edge technology. Not only does utilizing the Intelligent Charging System cost much less than buying new carts, but it will also save electricity and limit the amount of heat stress the devices endure due to charging time. Plus, it comes standard with a five-year warranty—a longer than an average electrical warranty—rendering over-priced cart electrical timers obsolete.
The bottom line is this: Most charging and securing carts have, at least, a basic frame that will last for a long time. If your school still has devices that will fit into the cart, you may find that you can continue to use that cart effectively with just a few adjustments. Even if you have to spend a little bit of money getting the cart up to speed, you could still save thousands over replacing the carts entirely, while reducing e-waste. Of course, if you still need to get new carts, give me a call at 886-393-4202 and I can help you find a versatile cart that will last through multiple device refreshes while providing security and charging for all of your devices!
Click below to learn how you can try the Intelligent Charging System in your school risk-free.