Thoughtful tech administrators are always looking for ways to improve the learning of students while stretching their budgets and saving as much money for taxpayers as possible. As tablets and Chromebooks modernize classroom after classroom, educators find new ways to cut costs, giving students better resources. On the surface, these methods of saving money appear to help everyone, but always beware of hidden, costly pitfalls. From our experiences, some strategies for saving money are better than others and every outcome must be considered if you want to raise the ROI on your technological investment.
Some Assembly Required
Purchasing unassembled or partially assembled charging solutions can be more affordable up front because the shipping charges for several small packages containing the components of a charging cart will be substantially lower than ordering a full-size charging cart. The initial price difference may lead you to believe you are getting a bargain, but the full gravity of the situation sets in as you begin to construct the cart by hand.
You must be aware of the full scope of the assembly process to truly know your total cost. If you purchase a charging cart that your school does not have the internal resources to assemble, you may have to hire an outside contractor to help, potentially costing more money than if you purchased a pre-assembled charging cart. There is also the risk of a third party incorrectly constructing the cart, leading to further costs or potential hazards. Both options will cost extra, so consider this when comparing initial purchase prices.
Hiring Helping Hands
Many schools outsource the task of wiring and constructing technology carts to a third party. This decision can be risky if you have never worked with the contractor in the past. When you have a contractor set up charging carts for tablets and Chromebooks, make sure that they know the proper way to install the charging cables. If the cart is set up incorrectly, it can cause damage to the cart or cables and it will cost time and money to redo the botched job.
Only work with trusted workers and you will be sure to supply an affordable option for technology charging in your school. Make sure you know the individual that is hired to help and you will save money down the road by having a product that has been properly assembled.
Don't Choose a Fly-By-Night Manufacturer
Sometimes you get lucky and you will never need assistance with your carts after the initial purchase, but more often this is not the case. When something is accidentally broken or the keys are misplaced, for example, you will want the manufacturer to be responsive to your needs so your faculty and students can get back to using the carts. Get references from peers on their experiences whenever possible.
Never purchase charging stations from businesses that fail to provide a warranty or garner poor customer reviews. Get references from peers on their experiences whenever possible and always research each retailer before purchasing a charging cart for your technology. By taking preventative steps and doing your own research into brands, you will save money by investing in a technology cart that is properly insured.
Quality Materials and Components
Just as you would never settle for a cart that lacked a manufacturer warranty, never purchase a charging cart made from inferior components. Restrictive budgets sometimes mean that you need to get the best parts you can for a certain price point that will get the job done. To really know that your money is being well spent, you need to be aware of the life span of the cart, charging station, and its components. Quality materials wear down much slower when used for long periods of time, which is necessary when your charging cart moves from class to class every day. The same quality components potentially require less maintenance than cheaper parts, saving you money on repairs. Inferior charging components may damage the tablets or computers that they are tasked to upkeep if they are not wired correctly. Always invest in top-notch electronic components, as these materials ensure that your tablets, Chromebooks, and all other devices charge efficiently and quickly.
Quality materials also are easier to repair when they require maintenance. Many repair technicians train by working on name brand products and even receive specialized licenses to work exclusively on them. If you purchase high-quality components, experts most likely have experience fixing your product and will be able to assist you in repairing any damage. Spending even a small percentage more on a higher quality product will save you exponentially well into the future.
There are many poor methods to save money when purchasing technology carts and you don't want to cut corners when you search for classroom charging solutions. Always find ways to save money, but make sure that these methods are effective. High quality components, purchasing pre-assembled carts and doing research on brands will always be the best and cheapest investment you can make. With these tips in mind, you will be sure to save huge amounts of time and money and make your classroom as efficient as possible.
Where Quality Meets Affordability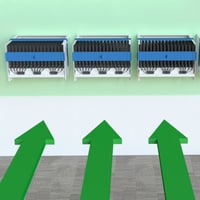 JAR Systems has been hard at work creating practical charging solutions for schools that meet the mark of being affordable and providing long-lasting value. Check out our latest solution; a 16 device wall mount charging station for under $300!