Virtual Reality (VR) technology is rapidly becoming a widely utilized tool for education. The technology provides more immersive and engaging experiences for students, which can be supplemental to lesson plans in a seemingly limitless variety of subjects. Governments around the world have taken note of the potential of VR that is thoughtfully integrated into the curriculum, so why not try it out in your classrooms?
VR technology is now attainable for many schools and there are lots of educators who have tested or integrated it already. So, if you're ready to get started read on!
Get the Gear
All that is required for your students to experience VR are VR viewers and compatible cell phones to place in them. Acquiring the gear required for a whole classroom set of VR tech is not cheap, but thanks to the advent of simple viewers and more affordable cell phones, it has become achievable for many. The phones must have an accelerometer and gyroscope to be compatible, which many mid-priced smartphones have.
While cardboard viewers are by far the most affordable option that can even be found for as low as $5 each, you will likely find that these will not last long in a classroom environment. A more durable plastic viewer such as the Mattel View-Master or Homido Grab VR will be a better investment.
VR "kits", which bundle all of this together for schools along with a teacher tablet to control the content and often a wireless router, charging bank, and a case can be purchased from various educational resellers. A kit like this for 30 students costs about $9,500 from Best Buy Education. It can be convenient to purchase these packages because it takes the work out of piecing the items together and typically comes with support from the reseller. If you don't have that in the budget, don't worry, you can get these items for less with a little more effort.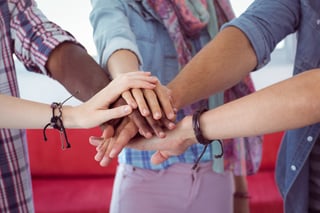 Achieve Learning Objectives
To harness the power of virtual reality you must search for apps that will help you achieve your learning objectives. To help provide you with some inspiration, a few examples of how other teachers are using virtual reality in their classrooms are listed below:
Field Trips: Applications such as Google Expeditions, Sites VR, and Titans of Space let students immerse themselves in virtual tours of museums and landmarks across the globe as well as throughout outer space—all without leaving the classroom.
Time Travel: Make history more than words in a textbook. Immerse students in story with Discovery VR, show them hieroglyphs and Egyptian tombs with Egypt VR 360, and send them back in time to the prehistoric era with Dinosaurs VR & AR.
"Real World" Application: Students can bring physics to life with VR Roller Coaster, practice presentations in front of crowds with Public Speaking VR, and learn a second language with Rosetta Stone.
VR Development: Google Street View can be used to create 360 degree 'photospheres' of any location, allowing students to make their own expedition (see what this teacher does!).
Career Exploration: Let students investigate career paths with apps like VR Stem Career Exploration, which give them the opportunity to identify activities they enjoy or excel at and help identify possible career pursuits for the future.
Prepare the Technology for Class Time
Technical issues can be frustrating and consume class time, so you will want to set up and test beforehand. Schools must have adequate wireless infrastructure for the streaming requirements associated with virtual reality. All of the devices must be connected to your school's network. If the devices are being used continuously throughout the day, you should consider how they will stay charged.
Be sure to leave time for managing the technology. Devices must be charged, phones must be installed in the goggles, and the gear must be distributed to students and put away after, so all of that adds up. The headsets really should be wiped down each time they are used, especially since they come in close contact with students' eyes. They get dirty quickly as students are handling them and holding them up to their faces.
Get More Cost-Effective Charging and Storage
JAR Systems has developed a wall-mountable charging station. Designed to be different, this versatile solution is both simple and affordable. For just $295.00, schools can get the Essential 16 Charging Station and achieve individual security and charging for 16 devices. Request more information today on testing the Essential 16 Charging Station in your organization free for 30 days!
Click below to learn more about the Essential 16 Charging Station and request more information or a quote!