3 Ways to Successfully Navigate Practicing Sustainability in EdTech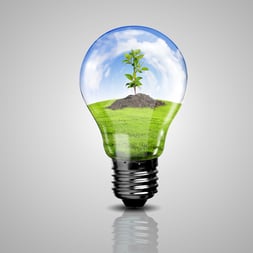 Sustainability and recycling initiatives are important considerations for purchasing and disposing of products. Unfortunately, we live in a "disposable" society where items are discarded after they become outdated or no longer useful. This creates a large issue regarding how much waste is being produced and the costs for school districts to dispose of this waste. In order to practice sustainability, one must find creative ways to repurpose or recycle items that may seem "outdated". Fortunately, we have done the heavy lifting and created a quick guide to help inspire green initiatives in your school!
With new advances in technology throughout recent years, carts and stations are able to be used for longer periods of time before needing to be upgraded or discarded. When the time comes to discard a used cart or station, there are many sustainable options for schools.
What can schools do with used carts or stations to discard them in a sustainable way?
When you choose to repurpose, upcycle, or recycle with these 3 simple steps, you are allowing your school to save money, eliminate excess waste, and practice green initiatives at the same time!
1. Repurpose Carts and Stations for New Uses
You may be asking yourself - what are the differences between recycling, reusing, and upcycling? It is important to first define each sustainable practice in order to fully understand and thus implement them. Specifically within EdTech, recycling, repurposing, and upcycling are simple practices to implement seamlessly with a significant end result. Recycling is the action or process of converting waste into reusable material. To adapt or utilize something for a new purpose is categorized as repurposing. Lastly, upcycling is explained as recycling something in such a way that the resulting product is of a higher value than the original item or creating an object of greater value from a discarded object. Not only do these practices help the environment as a whole, but they allow school districts to save money and resources in the process.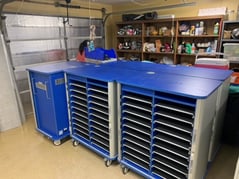 Products that seem to have exceeded their life span may be repurposed in creative and useful fashions. One example of repurposing items commonly found in schools is an old or used charging cart being converted into a storage cart for materials, school supplies, or even tools!
"Retired" charging carts have been redesigned for a new life as tool carts by one of JAR Systems' second-hand customers. One school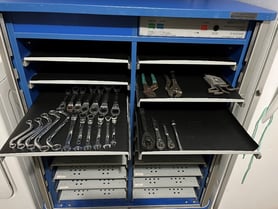 decided to discard their JAR carts in a sustainable way by auctioning them so that they would be able to have a second life. The purchaser of the carts from the auction capitalized on the opportunity for these charging carts to be creatively repurposed. Consequently, this opportunity allowed them to save resources, money, and time by repurposing a cart that is fully functional for use in a new way. Since the cart has sliding trays and doors, it was convenient and simple to easily convert it into storage for tools. The heavy-duty components of the cart, in addition to the cart's maneuverability, were the perfect solution for a functional tool cart.
In addition to being utilized as a tool cart, the Intelligent Network Management Charging Cart could also be repurposed as an art supplies cart. This would allow art teachers in schools to save money on storage by utilizing items that the school already has in possession with no additional costs. Items that could be placed in the carts' trays include paper materials, drawing or coloring materials, paint brushes, and other miscellaneous art supplies. This could provide art departments with easily accessible storage while positively impacting the environment. Carts that would have otherwise been discarded are able to be reused in school districts for other purposes, ultimately saving school districts money that can be used for other things.
2. Upcycle and Upgrade to Eliminate Excess Waste
As previously defined, upcycling is the process of creating an object of greater value from a discarded or potentially discarded object. This is not only beneficial for the environment and sustainability, but it also benefits the end-user who is ultimately creating a high-value item that would have otherwise ended up in a landfill. This practice of upcycling can be achieved through charging carts, stations, and other items found in educational institutions. Regarding K-12 institutions, older and outdated carts can be retrofitted and upgraded by replacing AC adapters with JAR Systems' Quick-Sense USBC Charging Hubs.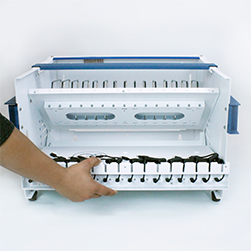 The Quick-Sense USB-C Charging Hub saves technology teams valuable time and
resources while creating a more user-friendly charging experience. It eliminates the process of wiring carts and stations and removes cable clutter from the classroom. Quick-Sense USB-C technology intelligently delivers a fast and balanced charge, up to 65W per port, without using AC adapters.
The Quick-Sense hub can be easily installed into select JAR Systems carts and stations and is also compatible with a variety of other charging solutions.
This method minimizes waste by upcycling while also saving school districts' resources and time. JAR Systems is an excellent example of
good corporate citizenship
, taking into account environmental factors and the needs of their customers.

3. Recycle, Recycle, Recycle
Recycling can benefit school districts financially and the environment by reusing key components as a green initiative, or by donating used products to organizations. Prior to recycling opportunities, school districts would simply discard old or used carts that would become costly due to the large size of the items and end up in landfills - even if they were not at the end of their functional life cycle. Educational institutions may greatly benefit from recycling to help in defraying costs, receiving a return on their investments, engaging in the promotion of recycling efforts, or continuing to use products that remain fully functional. Upcycle USA makes it easy for institutions to recycle their products and engage in sustainable EdTech practices through upcycling, recycling, or donating equipment! While schools can upcycle or donate items on their own, if time or resources do not allow for this, organizations such as Upcycle USA may be a viable option.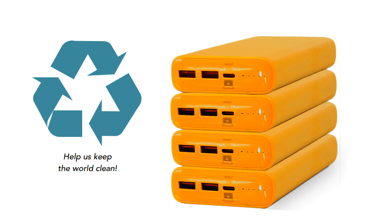 JAR Systems' power banks are also recyclable when disposed of properly. View this document with the proper procedures for recycling used power banks in order to assist JAR Systems in keeping the world clean!
---
Practicing sustainability in EdTech greatly benefits schools, the environment, and consumers by reducing waste, and re-purposing outdated equipment by participating in this effort. JAR Systems stands ready to meet the diverse customer and environmental needs by offering these green initiatives to reduce overall waste and to re-purpose absolute equipment. This green initiative offers a continuous cycle of updating equipment to meet the ever-changing landscape of technology power demands.
Make a second life for your charging carts and stations with Quick-Sense USB-C upgrades!