Classroom robotics can be a launching pad for student innovation. By going through the process of building a robot, students are inspired to ask questions and let their creative juices flow. Integrating robots into the lesson plan not only encourages students to learn programming, but gives them opportunities to complete hands-on activities either independently, or through collaboration with peers.
Similar to Chromebook, notebook, and tablet devices, it is also essential for robotic devices to be charged and ready for use. However, charging solutions that work with more commonplace forms of classroom technology are not necessarily advertised to support robotic devices. This apparent absence of a one-fits-all charging solution has left many teachers struggling to figure out where, or how, to most efficiently secure and charge their robots in the classroom.
Now, what would you say if I told you that a number of the charging stations designed for mobile devices may also be capable of charging robots? Think about it—Just because a charging solution is not necessarily advertised to support robots doesn't mean it won't do the job! Keep reading to discover what you should look for in charging solutions to help decide whether they are compatible with your robot charging needs.
Adjustable, Locking Compartments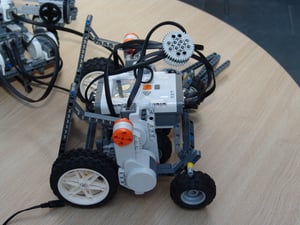 Instead of leaving robots out while they charge, charging stations, lockers, or carts may be appropriate solutions for schools that are concerned with the security of their robots. These solutions typically have one or several locking compartments that will provide students with a secure location where they can leave their robots to charge. It is also common for these types of solutions to feature integrated cable management systems with outlets and/or USB ports for device charging.
On top of that, choosing a charging solution with an adjustable compartment means it will be able to fit technology of various types and sizes. Depending on the size of your robots, look for a solution with shelves or dividers that can be adjusted, or even removed, to create additional space. Once you have a solution in mind, be sure to reach out to the manufacturer to ask about how the space may be altered to suit your current—or even future—needs.
Charging in One, or Multiple, Locations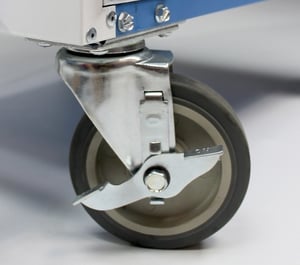 Teachers often move their students to another classroom in order to use robots because that may be where they are stationed. The downside to this practice, however, is that valuable class time is lost during each transition. The distance between these rooms can vary greatly, and may even be located in separate buildings.
Mobile charging carts easily solve this problem by quickly transporting and sharing technology. Some charging stations even feature a hybrid design, allowing the user to decide whether they want a mobile or stationary solution. This versatility makes it possible for teachers to not only charge robots in one location, but also easily transport the robots and their charging outlets from one classroom to another to share them across classes.
Cable Management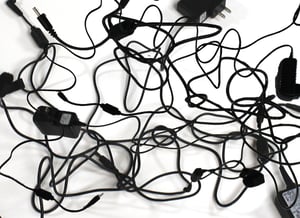 In the absence of charging solutions designed specifically for robots, quite a few teachers have turned to do-it-yourself (DIY) robot charging solutions. However, there are a number of considerations to take into account when making this decision; especially in an environment where a student's safety is of the utmost importance.
DIY charging solutions typically have little to no cable management and in the instances where they do, not always is there is any rhyme or reason to how the cables are organized. Admittedly, cables and wires can be hard to control. It's a messy job. Tripping hazards abound when cables are not contained or managed correctly.
The advantages to using a manufactured charging solution is that they are held accountable to special regulations and design patterns that ensure the utmost in consumer safety. Manufactured carts most typically wire all devices to one or two surge protected power cables, and include cable management systems that will keep your robots' charging cables organized.
Remember... One Size Does Not Fit All
Depending on the size of the robots, the classroom's layout, what the technology program consists of—and many other factors, one charging solution may be more suitable than another. The most beneficial action you can take is to reach out to these manufacturers and not be afraid to ask questions about their solutions. One thing is certain, dead batteries will happen from time to time and without access to all of the robots, the lesson will be disrupted. This makes it essential to provide a reliable, and secure, charging solution.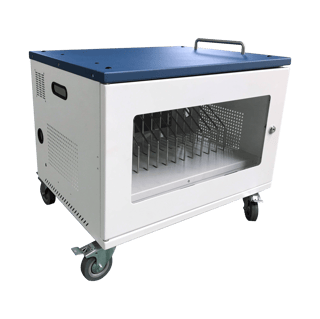 Get an Affordable, Hybrid Solution Suitable for a Range of Devices
Flex-Share Charging Stations are modular charging solutions that can be configured in multiple ways to best satisfy the charging requirements and space limitations in each classroom. Featuring removable and adjustable dividers, these charging stations offer a variety of installation options that help maximize classroom space and improve the flow of student traffic when deploying devices. Click below to watch a video about Flex-Share Charging Stations and request more information or a quote!