It is true that there are many costs involved with deploying and maintaining mobile devices in schools, beyond the initial expense of purchasing the devices. Have you ever wondered how much it really costs to implement mobile devices in the classroom or computer lab? Have you considered the ways in which the mobile cart that you choose can effect these costs?
Here I address six cost-saving benefits to owning a mobile cart that facilitates efficient device deployments and shed light on different ways a cart can help the budget. I will even throw in a worksheet with questions to help identify areas with potential for saving. It may seem like only a minor aspect of an overall technology program, but it may be surprising how much room there is to save, and reduce e-waste, by choosing the right charging and securing solution.
1. Fast, Efficient Charging
Do you find yourself waiting indeterminate amounts of time for devices to be charged? Are they sometimes not charged at all, leaving students without devices on their desks? I am sure we all know by this point the unfavorable effect that poor charging has on classroom device deployment. So, as the Cart Guru, I need to ask: How often are your devices really being used? I am willing to bet that your answer is less than you would like. According to a 2014 report by Digedu, you are not alone.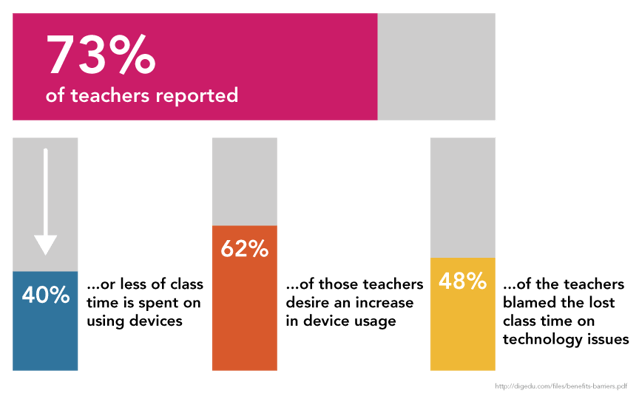 The data shows that a whopping 73% of teachers report only using devices for 40% or less of class time and that 62% of those teachers desire an increase in that time. Furthermore, 48% of teachers report technology issues, including charging, as the blame for lost class time. Now, this is a problem, but one that can rapidly improve with the implementation of the right charging system.
Different charging systems are available to suit the needs of your devices. Some are even surge-protected, so you don't have to worry about damaging building electrics or budgeting for their repair. Some charging systems feature software that's designed to stop power flow when devices are fully charged, saving energy and avoiding over-charging device batteries. If a charging system is able to increase device availability, charge devices faster, and save money on electricity bills, then it's surely a worthwhile investment. Learn more about the different types of charging systems available in this past post.
2. Facilitating Easy Device Management
It can be frustrating having to spend copious amounts of time managing or syncing large quantities of devices, and if you are not the one who does it, then think about the person who does! Consider the average labor rate, per hour, of a teacher or information technology (IT) specialist in your school charged with this task and then multiply that by the time that is spent updating the devices. All of that money is going down the drain and valuable time that could be spent on planning lessons or on technology development is being lost.
Utilizing a cart that properly accommodates remote management or device syncing where applicable is a route that is easier, faster, and less costly in the long run. These features can allow automated device updates, saving time instead of wasting it.
3. Minimizing Conflict with Cable Management
Does it frustrate you when you are left to untangle a web of wires at the end of the day? How about when you cannot find the right charging cable for each device? This can be stressful… but with effective cable management this becomes a non-issue. It may even mean you can leave school on time!
Efficient mobile carts offer cable management systems that, if used correctly, station cables in place and prevent cables from becoming tangled, avoiding stress on the cables.This stress on the cables can severely diminish their lifespan by causing damage and, consequently, can lead to the cables having to be replaced.
4. Keeping Investments Secure
On a similar note, approximately how many charging cables or devices go missing from your school in one academic year? How much do each of those pieces of equipment cost? This loss may simply be the consequence of inadequate cart security features for the setting that the devices are being deployed in.
Carts typically offer locking components designed to prevent theft by restricting access to devices and their accessories. This means that only appointed administration members, such as teachers or IT directors, are able to access the contents. Some also offer a locking mechanism to prevent relocation of the cart itself.
Divided compartments are also available in some storage carts, further restricting access to either front-end or back-end contents. Consider the price of a cart and now think of how much your devices and cables cost. If a cart deters theft even a couple of times, then it is already starting to pay itself back!
5. Damage Protection
In this day and age, devices are not as sturdy as they used to be. They are smaller, slimmer, and far more susceptible to damage if they happen to fall or be dropped. Damage to devices not only occurs by physical mishandling of the devices, but also from the way they are stored and transported.
On the other hand, mobile classroom carts are built for the specific purpose of housing devices, which means that they should include the proper precautions to preserve and extend device longevity. This entails features such as adequate ventilation to prevent devices from over-heating, minimizing movement during transportation, and cable management to protect charging cables.

6. Accommodating Future Devices
How often does your school refresh your devices? The answer to this question can either help or hinder you in your search for a storage and charging solution, however, many mobile carts have a versatile design which takes the future into account.
Chances are, if you invest in a cart that supports various types, sizes, brands, or models of devices then it will last through multiple refreshes. With the right mobile solution you can say no to spending money on a new cart, and recycle the old one! Versatile carts are durable storage solutions that, over time, should offset the cost of your original purchase, increasing your ROI.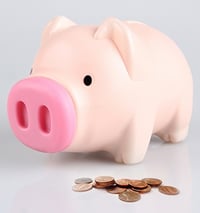 Do You Think You Could Be Saving?
We have put together a worksheet as a tool to stimulate thought about potential ways to save with the right mobile classroom cart (computers on wheels). It can be used as a checklist or, if you feel so inclined, you can enter your answers and it will automatically calculate an estimated dollar amount. If you have any questions about ways that you could be saving, always feel free to call us at 866.393.4202.