Updated May 3, 2023
We have all been there: the unexplainable dread you feel when you enter the classroom on Monday mornings...just to find uncharged devices causing an unlimited potential for classroom disruptions. Does this situation trigger feelings of frustration, anxiousness, and disarray? If you are nodding your head in agreement, you may have caught a case of the Monday Blues.
---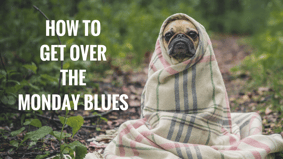 Stop the Monday Blues from getting you down with these 3 simple ways to get students' devices charged in class:
1. Make At-The-Desk Charging a Reality
Uncharged devices or partially powered devices is an extremely common problem in schools today - especially on Monday mornings. Students forget to charge their devices over the weekend and come into the classroom with uncharged devices causing learning loss and disruptions. For example, schools have posted announcements regarding students bringing in uncharged devices such as this Las Vegas K-12 School. Thankfully, there is a solution that eliminates classroom disruptions, learning loss, and keeps students' devices charged, enabling teachers to keep the focus on learning! Power banks are external and portable batteries that charge devices and are built to replace traditional main chargers and outlets. This solution makes at-the-desk charging simple, efficient, and cost-effective. They also will help eliminate classroom disruptions, eliminates the need for outlet availability and extension cords, and will charge students' devices while they work.
The first step in achieving at-the-desk charging in your classroom is to choose the correct power bank. Some external batteries will not be able to deliver enough power to efficiently charge laptops and other devices; therefore, researching power banks' output and specifications is extremely vital. An important aspect to consider is their mAh or milliampere-hours. mAh is used to measure battery capacities, such as the battery capacity of external batteries (power banks), tablets, and smartphones. The more mAh it has, the longer the battery life will be. For example, if power bank A has 3,000 mAh and power bank B has 20,000 mAh, this indicates that B will have a longer battery life than A. Furthermore, when considering how to charge laptops specifically, it is crucial to look at how many watts or wattage a power bank delivers while charging. For school devices, 45W is common but 50W is the standard for laptop charging.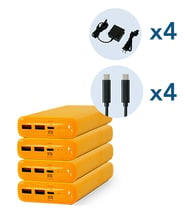 External batteries will help put the focus back on learning and cast away the Monday Blues! Ready-to-go power bank kits come with everything needed to implement 65W charging for devices in use. They are available with USB-C emulator cables to be compatible with non-USB-C devices you may currently have using USB-C emulators to connect legacy devices. Active charge power banks are a perfect solution for schools and classrooms that are experiencing issues with uncharged devices.
2. Charge Devices During Off Periods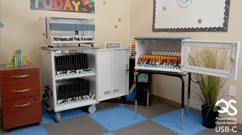 Another tip to avoid or beat the Monday Blues is to charge devices during non-instructional periods to ensure students' devices are fully powered. This may vary depending on the grade level; however, it provides another solution to a never-ending problem seen in classrooms today. Teachers, in addition to planning for instruction, should also note the best times to charge their students' devices. Opportunities that are built into teacher and school schedules may include the teachers' prep, lunch, and team time, along with the students' special area times that devices may not be in use. In a typical teacher's schedule, there may be three or more 40-minute blocks that may be appropriate to charge devices in the classroom. Scheduled planning of instruction as well as technology maintenance and charging will lead to seamless instruction, reduce teacher stress, and enhance student achievement.
3. Create a Weekly Plan Moving Forward
Plan Plan Plan. Classrooms are never predictable; therefore, planning is a very important aspect. If your school has already invested in power banks or is looking to purchase them, it is vital to plan out where the power banks will be located, how many will be used, and how to ensure that they remain fully powered.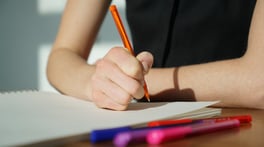 Weekly plans should account for the total amount of devices per classroom and the projected number of power banks needed. Accounting for the projected number of power banks needed will be useful in ensuring that each classroom has the necessary charging resources. Planning how to integrate devices into the classroom may also be useful in this stage. In addition, charging devices and/or power banks during off periods to ensure that devices remain charged is highly recommended. This can help prevent unforeseeable issues that may arise in the classrooms. It may also be beneficial for your weekly plan to include incentives for students who bring in charged devices on Monday mornings. The incentives or rewards may vary depending on the grade level. This is a way to help motivate the students while also potentially eliminating the Monday Blues.
---
In conclusion, the Monday Blues can cause frustration, stress, and learning issues in the classroom. With the addition of power banks, teachers and schools now have the tools necessary to beat the Monday Blues! Power banks are the ideal solution for uncharged devices in the classroom and will allow students to charge their devices at their desks as they work without the need for extension cords or outlets. Charging devices during off periods is critical to ensure that devices remain charged for all required instructional periods. Lastly, a weekly planner allows teachers to organize their week, both instructional and technological, which would prevent any potential issues that may cause an interruption in the learning process.
Learn more about our Quick-Sense USB-C Technology Solutions that help alleviate charging problems in the classroom