JAR Systems Announces New, High-Capacity Elevate Max USB-C Charging Cart 36
Bradenton FL, January 25th, 2023 – Conference-goers at FETC caught a glimpse of the newly launched Elevate Max USB-C Charging Cart this week in New Orleans. JAR Systems welcomed technology educators from around the globe to their booth for live demonstrations of the new product. Much anticipated by schools and districts with larger classroom sizes, the new cart makes the company's popular Quick-Sense USB-C Charging Technology available for higher-capacity use.
Quick-Sense USB-C Charging Technology is the culmination of years of development of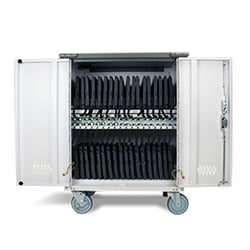 USB-C charging by the company and aims to tackle a classroom charging problem that is familiar in most schools. Charging carts and stations take a lot of time and effort to wire with AC adapter cables and keep orderly. Quick-Sense removes this extra work for a quicker initial set-up and less maintenance down the road.
Classrooms stand to further benefit from the Elevate Max USB-C Charging Cart's efficient use of space. As compared to other high-capacity carts, it features a significantly smaller footprint and double doors. The absence of AC adapters also creates more space for devices inside the cart. Technical and specialized classes that use larger devices can utilize the Elevate Max for screen sizes up to 17 inches.
Interested parties should contact their technology vendor or contact JAR Systems by calling 866-393-4202 or filling out a contact form on their website https://hubs.ly/Q01zlLLc0. Additional information can be found on JAR Systems' website https://hubs.ly/Q01zlNQS0.
About the Company: JAR Systems provides smarter, more versatile ways to charge and secure ever-evolving technologies. The company works closely with its clients to develop products that support and streamline how mobile technology is used for learning and working in real-world environments. JAR Systems' focus is on being a leading manufacturer of innovative charging solutions and designing efficient products that will work dependably for many years.