Elevate Air USB-C Open Charging Cart Chosen as a Stand-Out Solution for Schools

July 3, 2023 – Lakewood Ranch, FL: ISTELive '23, the influential global edtech conference, bustled this past week in Philadelphia with educators exploring the myriad of showcased solutions. Among them, the new Elevate Air USB-C Open Charging Cart stood out. A panel of judges selected the cart as one of Tech & Learning's Best of Show Awards winners. The award is judged based on criteria such as ease of use, value, uniqueness in the market, and proof that the product helped make teachers' lives easier, and supported student achievement.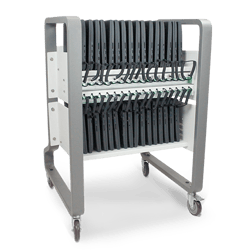 JAR Systems announced the launch of the Elevate Air Open USB-C Charging Cart in December to great interest. The product spawned from the need for grab-n-go access to devices in classrooms. The cart's open design removes barriers, so deploying devices is quick and easy. It employs Quick-Sense USB-C Charging, which reduces cart setup and maintenance time and creates a more efficient charging experience.

The company reports that Elevate Air USB-C Open Charging Carts are selling fast due to their popularity with customers. Interested parties are encouraged to contact their technology vendor as soon as possible or contact JAR Systems by calling 866-393-4202 or filling out a contact form on their website.
---

About the Company: JAR Systems provides more versatile ways to charge and secure ever-evolving technologies. The company works closely with its clients to develop products that support and streamline how mobile technology is used for learning and working in real-world environments. JAR Systems' focus is on being a leading manufacturer of innovative charging solutions and designing efficient products that will work dependably for many years.