JAR Systems Introduces Adapter-Free Charging in an Open Cart Design for 16 or 32 Chromebooks, Notebooks, or Tablets

Bradenton, FL. — December 13th, 2022: JAR Systems is proud to announce the release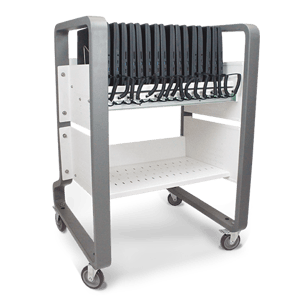 of the Elevate Air USB-C Open Charging Cart as the latest design in its portfolio of charging solutions. Powered by Quick-Sense USB-C technology, it comes in two configurations that charge up to 16 or 32 devices without using AC adapters. The new Elevate Air USB-C Open Charging Cart is made for device accessibility, easy maneuverability, and simple charging deployment. It is well-suited for environments that do not require extra security and value convenient accessibility.

The Elevate Air USB-C features JAR Systems' proprietary Quick-Sense USB-C charging technology, which the company first introduced in early 2019. The technology automatically senses and adjusts the power supply to meet the needs of individual devices, up to 65W per port. The system intelligently delivers a quick and balanced charge and protects against power surges and overloading. Quick-Sense USB-C Charging Hubs save technology teams invaluable time and resources by eliminating cable management tasks while creating a more user-friendly charging experience.

The Elevate Air features all-steel construction to withstand the demands of any environment. It features durable swivel casters to transport shared device sets between classrooms easily. The ergonomic height of the cart allows for easier reach for adults while still being accessible for students. Universally compatible with Chromebooks, tablets, and notebooks, the Elevate Air USB-C Open Charging Cart features removable dividers to accommodate both large and small devices. "We are confident that the proven and trusted technology of Quick-Sense USB-C in this new, open design will improve how schools and businesses manage mobile devices," commented Axel Zimmermann, the company's president. "Our objective is to continue to seamlessly integrate the technology into innovative forms as device manufacturers further utilize USB-C charging."

The Elevate Air USB-C Open Charging Carts are available for preorder now. Contact JAR Systems at (866) 393-4202 or visit https://www.jar-systems.com/en-us/new-elevate-air-usb-c-open-charging-cart for more information.

About the Company: JAR Systems provides smarter, more versatile ways to charge and
secure ever-evolving technologies. They work closely with their clients to develop products that support and streamline how mobile technology is used for learning and working in real-world environments. Their focus is on being a leading manufacturer of innovative charging solutions and designing efficient products that will work dependably for many years down the road.