JAR Systems Introduces Adapter-Free Charging for up to Four Chromebooks, Notebooks, or Tablets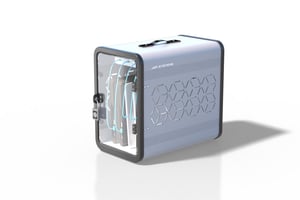 Bradenton, FL. —June 15th, 2020—
JAR Systems is proud to announce the addition of the Adapt4 to its portfolio of charging solutions. The new Adapt4 Charging Station is easy to implement, scalable, and affordable. Capable of charging up to four devices at once, it is designed to bridge the gap for schools with 1:1 take-home models needing mid-day charging or a home for spare devices and is equally well-suited for charging and storing small device sets.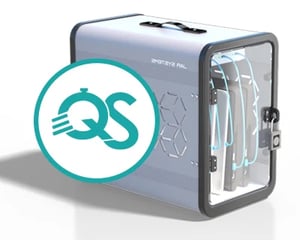 The Adapt4 USB-C features JAR Systems' proprietary Quick-Sense USB-C charging technology, which the company first introduced in early 2019. The technology automatically senses and adjusts the power supply to meet the needs of individual devices ranging from 2.5W to 45W. The system supports fast charging technology, delivers an efficient charge, and protects against power surges and overloading.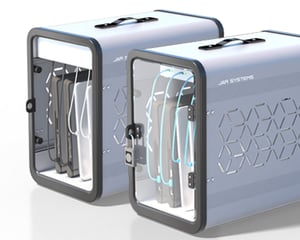 The Adapt4 is constructed with customizable security so that it can be used as an open or secured solution with its removable door, included keyed padlock, and ability to be secured with a cable lock. Compatible with Chromebooks, tablets, notebooks, and even smartphones, the Adapt4 USB-C features removable dividers and provides a sturdy enclosure for both large and small devices. As a bonus feature, the USB-C charging module is removable for use as a tabletop charger. "We are confident in the potential that Quick-Sense can deliver to schools and places of business to improve the way they use mobile devices," Axel Zimmermann, the company's president, commented. "Our goal is to continue to integrate the technology into useful forms as USB-C charging is further utilized by device manufacturers."

JAR Systems has also made available an AC charging Adapt4, which facilitates the charging of non-USB-C devices and is easily upgradeable to the USB-C module to adjust with advancing device needs.

The Adapt4 Charging Stations will begin shipping in August 2020 with limited quantities available for the start of the Fall semester.
About JAR Systems:
JAR Systems LLC specializes in charging solutions for mobile technology. Founded in 2004, the company has spent the last decade focused on providing smarter, more versatile ways to charge and secure ever-evolving technologies. During this time JAR Systems has consulted educators to develop products that support and streamline how mobile technology is used for learning. The company's goal is to deliver products that will work efficiently and dependably for many years down the road.