New Service Plus Cart helps schools achieve their total cart solution with greater ease by removing the work of cable installation and device set-up.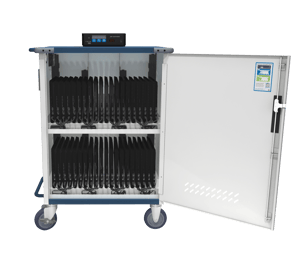 Bradenton, FL.—May 8, 2019—As part of its mission to enhance how schools and businesses manage their mobile devices, JAR Systems today launched the Service Plus Cart. The newest iteration of the popular Ultra-Light Intelligent Cart line, it provides schools with a turn-key solution that is ready to use in the classroom at an affordable price. The Service Plus Cart is designed to intelligently charge and secure 30 to 40 Chromebooks, notebooks, or tablets.
"JAR Systems is committed to building solutions that redefine how schools and businesses charge and secure their devices," said Axel Zimmermann, the company's president. "With the Service Plus Cart, our team works hand in hand with service partners nationwide to deliver innovation and premium service to our customers. We provide a quality charging cart and our partners add even more value, equipping it with chargers and devices for a complete solution."
Engineered for maximum value, the cart is paired with a lifetime warranty including its industry-leading Intelligent Charging System. Pioneered by JAR Systems, the Intelligent Charging System uses power sensors and charging logic to deliver the fastest, most efficient mobile device charging. It is designed to automatically deliver power to the devices that require the most charging first and to always charge as many devices simultaneously as possible.
The Service Plus Cart features the same sturdy, all-steel, construction that is consistent with their Ultra-Light Cart line. Thanks to its lightweight design, the cart is able to maintain easy maneuverability, even when fully loaded. It comes equipped with an effective, easy-to-use cable management system. Adjustable/removable device bays also allow users to customize the cart to store between 30 or 40 devices or make space for peripherals.
The quality, service, and affordability of Service Plus Cart solve many of the common problems that schools have in implementing charging carts. In addition, advancements in the serviceability of the cart and its lifetime warranty make it a great investment for schools now as well as many years down the road.
Parties who are interested in the Ultra-Light Intelligent Service Plus Charging Cart should contact JAR Systems at (866) 393-4202 for more information or visit www.JAR-Systems.com/Service-Plus.
About JAR Systems:
JAR Systems LLC specializes in charging solutions for mobile technology. Founded in 2004, the company has spent the last decade focused on providing smarter, more versatile ways to charge and secure ever-evolving technologies. During this time JAR Systems has consulted educators to develop products that support and streamline how mobile technology is used for learning. The company's goal is to deliver products that will work efficiently and dependably for many years down the road.