A technological shift is underway across classrooms throughout the United States. Many school districts have begun adding Google Chromebooks into their device landscape. Google's apps for education and the affordable price of each device make this option very attractive, but the low price of the devices leaves some wondering whether they can justify the cost of purchasing Chromebook carts to charge and secure the devices. Some schools are hesitant to purchase charging carts that can accommodate Chromebooks, as they view these carts simply as a power source.
While each education environment is different, security, charging capability, safety, mobility and even cable management should be at the forefront when deciding on whether or not to purchase Chromebook charging carts. When weighing the associated risks and also the relative longevity of a DIY solution, you may find that the materials and labor associated with putting together a truly effective, safe, secure charging and storage solution may be comparable to the cost of a mobile classroom cart. Consider the following before deciding to forego Chromebook charging carts entirely.
Protecting the School's Assets
It seems logical to assume that devices will be safe inside a locked room. However, a locked classroom should be considered a second line of defense. In many instances, instructors may forget to secure their classroom before they leave, especially if they intend to return shortly. Walking away, even for a moment, leaves the Chromebooks exposed. A secure cart that will house all of the devices is truly the safest environment. By storing all the Chromebooks in a cart, you can keep track of each computer and guarantee that only certain individuals will have access to the devices when they are not in use.
A secure charging cart doesn't just protect the Chromebooks. The theft of device chargers is a larger concern than theft of the devices in some districts. These essential components can be costly to replace, so maintaining their safety is of utmost concern. By housing the chargers and Chromebooks in a cart, you will not have to worry about theft. Investing in a quality cart will ensure your school's purchase will remain safe and secure.
Charging Requirements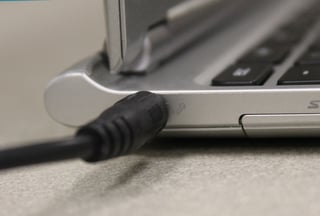 Security isn't the only factor to consider when deciding if a cart is essential. Chromebooks generally have a low power draw and a power strip can effectively charge several devices without the concern of tripping a circuit breaker. Unfortunately, a power strip will not meet your power demands if you need a large supply of Chromebooks to charge in one place. Charging carts with power distribution management enable a larger amount of devices to be safely charged from a single power source.
When selecting a power source, make sure you know the power draw of the devices during charging and the inrush current. Otherwise you may damage your products. After you figure out the power draw of your Chromebooks, it is important to have a system that can control the flow of electricity. You should always use a surge protector, or risk damaging every single device that you have plugged in during a storm. A mobile cart with power management will allow you to charge higher quantities of devices to a single 15A outlet without having to worry about damaging devices or tripping circuit breakers. This is fundamental to the upkeep of your Chromebooks. Well designed charging carts provide these essential requirements and ensure that your devices will not only be safe, but also properly charged.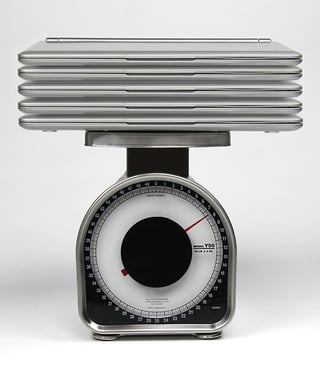 Mobility of Devices
If you plan on moving your Chromebooks, even once, you should consider how they can be easily transported. Individual Chromebooks are very lightweight, but this weight does add up. If each device weighs only 3lbs, a classroom set can easily weigh between 60 to 90 pounds!
If you are going to want to move or transport them at all, consider a mobile storage option. Carts are designed to distribute weight and allow for the easy transportation of electronics between classes. This option guarantees that your devices can efficiently be implemented within your lesson plan.
Cable Management
When considering the mobility of your Chromebooks, cables should not be forgotten. Do not underestimate unruly charging cables. If you don't have a way to keep them organized in whatever solution you use, they can be an annoyance or even a huge time waster. Carts provide an easy solution to this issue, as they provide a quick method to route cables together, preventing tangles and offering one of the most cost effective solutions. If you purchase a high volume of devices, you will need some form of cable control and charging carts with proper cable management will provide that.
After purchasing a supply of Chromebooks for the classroom, a charging cart may seem superfluous at first. All things considered, the right charging cart is an easily justifiable investment that will truly make your devices accessible to all of your students. They not only increase the life of each device, but ensure that every Chromebook will be secure, fully charged and available to students at a moment's notice, saving you money in the long run. If you purchase a full set of Chromebooks for a classroom, a charging cart will be your best bet. Consider buying a cart that is fully assembled and easy to use. This saves time and resources over other make-shift charging solutions. Plus, you can rest easy knowing that it is safe for classroom use.
Looking for a Budeget-friendly Chromebook Cart?
There are budget friendly solutions that store 15, 30 and up to 40 Chromebooks a piece. Watch this video to learn more about affordable Chromebook carts and see for yourself how easy they are to set up and use!